We may have seen a man singing to the horses and calling them by playing their tunes. We found them enthralling and frequently wondered how they were possible. However, what you will see in this video is a man playing a drum while singing to the horses. This is a lovely song sung by a good man who adores horses.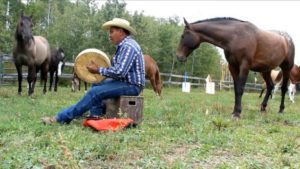 He is extremely fortunate to have that connection with those beautiful and spirited horses. This man simply shares his heart and heritage with us, and I adore how much he adores his horses. "I took my drum and went to sing to our horses," said Tom Durocher, the man who posted the video on Facebook. We don't usually thank them or appreciate the work they do for us, their companionship, or their teachings. My late father and grandfather instilled in me the importance of honoring them for their contributions and collaboration. They used to sing to their horses while riding or driving them.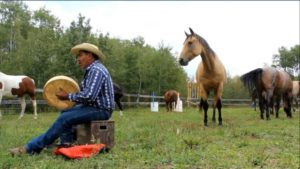 I sang many songs to them yesterday, including this one, titled The Honour Song. I am grateful for what they have taught me. They are always objective and truthful. Throughout the years, some of my closest friends have been my horses, and they have helped me get through some difficult times. " We sometimes forget to thank our horses, but this man reminds us.