We may have witnessed enormous horses in our lives, marveled at them, and pondered God's creation. There are times when we fantasize about being in the presence of those massive beasts, training and riding them. We may have even wondered how big a horse can grow, and until now, we only knew that Big Jake the Belgian Gelding horse has achieved worldwide acclaim for his colossal stature.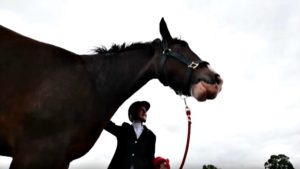 He officially became the tallest horse alive, standing at a majestic 20 hands 2.75 in (210.19 cm, 82.75 in) without shoes. But we're talking about Britain's tallest horse, and Sovereign shire has been named the tallest horse in the country. From his hoof to the withers at the bottom of his neck, the six-year-old Shire horse measures just under 21 hands, or just under 7 feet, but the top of his head stands a towering 10 feet above the ground.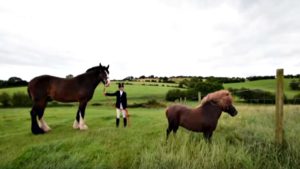 Before he was rescued by his actual owner, he had been so neglected and emaciated that people thought he was going to die. The owner, Paul Evans, took excellent care of him, and the Shire grew to be not only Britain's largest horse, but also one of the most beautiful. "Sovereign is still growing and will take a few years to reach full maturity," Paul says. Seeing this horse in action must be incredible. Check out the video!