With temperatures above 86°F, a large number of people went to cool themselves at Lake Tahoe over the weekend. However, some of them were surprised on Sunday when a mother black bear and her three cubs chose to join them. I know that seems insane, and several of the swimmers couldn't believe what they were seeing. However, given their thick furry coat, it's simple to understand why they made this decision.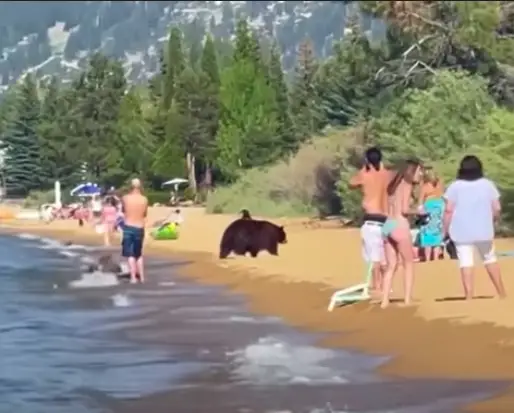 The family of bears, like everyone else, chose to take the day off and enjoy themselves at the beach, as they were observed swimming many times during the day. Jen Watkins, a beachgoer, was the first to spot the bears at Pope Beach. She even took a photograph of the event. The four-legged visitor was spotted strolling around the beach, seemingly unconcerned by the big crowds. However, they had a small incident with a dog.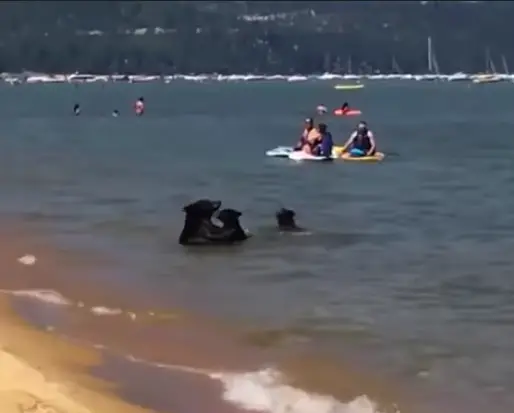 Jen told KCRA News, "We were all a little stunned. I suppose (the bear) was out earlier… It had become a little hostile, guarding the cubs with a golden retriever."
Even during the summer months, when the lake is quite crowded, black bear sightings are regular on the beaches of Lake Tahoe. However, given California's massive bear population — 25,000 to 35,000 individuals – it could be a common sight.
The stunning scenes can be seen below:
Despite the fact that no one was hurt this time, and the bear family gently strolled away after they tired of swimming, wildlife officials caution people to be cautious when near wild animals because they may be quite hazardous.
"Don't feed them, don't attract them, don't agitate them, particularly obviously in a situation like this," Placer County Sheriff's Office Lieutenant Nelson Resendes said. "Don't approach them and, above all, respect their personal space."
Another mother bear, this time with only two cubs, was spotted cooling off in Lake Tahoe last year. The video quickly went viral. You can see it in the video below!