After the officer who found him decided to offer him a forever home, what seemed like a nightmare turned into a happy ending story for an adorable pit bull puppy. When a local police patrol discovered the abandoned dog wandering the streets of Mount Laurel, New Jersey, the odds were quickly in his favor.
Officer Matthew O'Hanlon, a nearly three-year veteran of the Mount Laurel Police Department, was on patrol in the city's industrial district when he came across the little puppy. He went to investigate after initially believing he had lost. However, the puppy appeared to be abandoned rather than lost, as he lacked a collar and appeared to be injured.
"When we find a dog, they usually have tags or a chip on them," the officer told ABC 7. "We can take them to the local animal hospital and find out who owns them fairly quickly."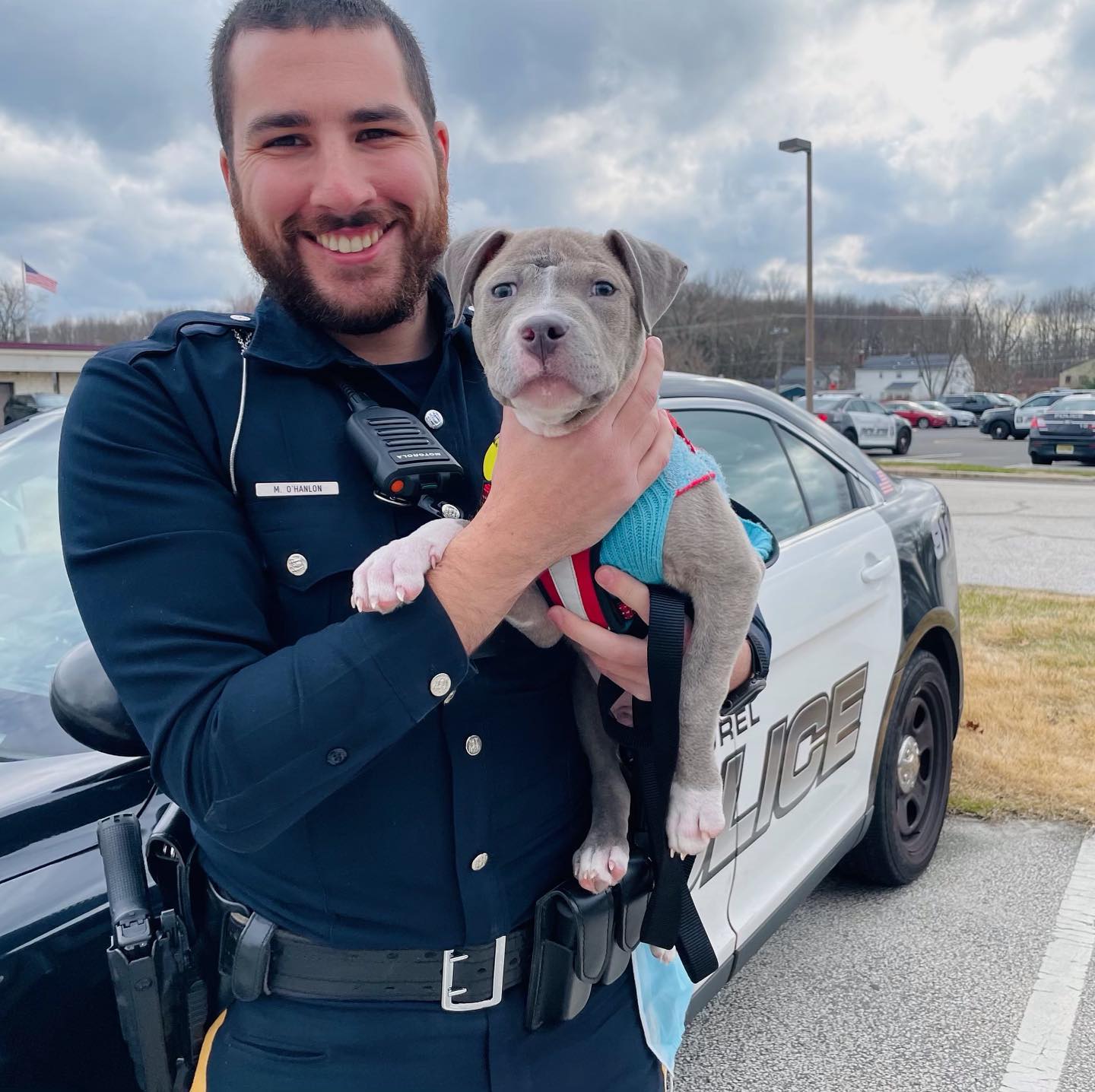 Officer O'Hanlon was concerned and took the 3-month-old puppy to the Burlington County Animal Shelter to be investigated further. However, the officer's heart had been stolen by the puppy's cuteness on the way there. Anyway, the officer knew he shouldn't get too attached to the puppy, so he left it at the shelter. But only for a short time!
Officer O'Hanlon told Good Morning America, "I called the shelter 20 minutes after I dropped him off and told them I wanted him. My fiancée and I were looking to get a pit bull, and it's hard to pass up a pit bull puppy with an injury."
Despite the fact that the puppy lacked a microchip, he was kept at the shelter for a few more days in case someone came to claim him. He was also required to remain in order to receive treatment for his wound. Officer O'Hanlon, on the other hand, was eager to show him around his new home as soon as he was fully recovered. He was given the name Thor!
"Boy, it makes you feel good to be able to help a little puppy like that go from whatever happened to now knowing how spoiled he'll be for the rest of his life," the officer told ABC7. "My fiancée and I are huge Marvel fans, and we just thought the name fit because of his injury and everything."
The Mount Laurel Police Department also informed their Facebook followers of the good news.
"Everyone keeps asking about the puppy we found on January 2nd…… "Well, he now lives with one of the officers who rescued him," the police department said on Facebook. "Officer O'Hanlon took him in right away and has been lavishing him with attention and treats! Thor is recovering well and has found his forever loving home!"