This is the emotional moment, when a caring stranger stepped forward to offer some solace to a heartbroken creature. A poor mother cow had just lost her baby during labor and was sitting alone on the grass when this kindhearted man spotted her and joined to show his affection. The man's wife captured the touching moment on camera!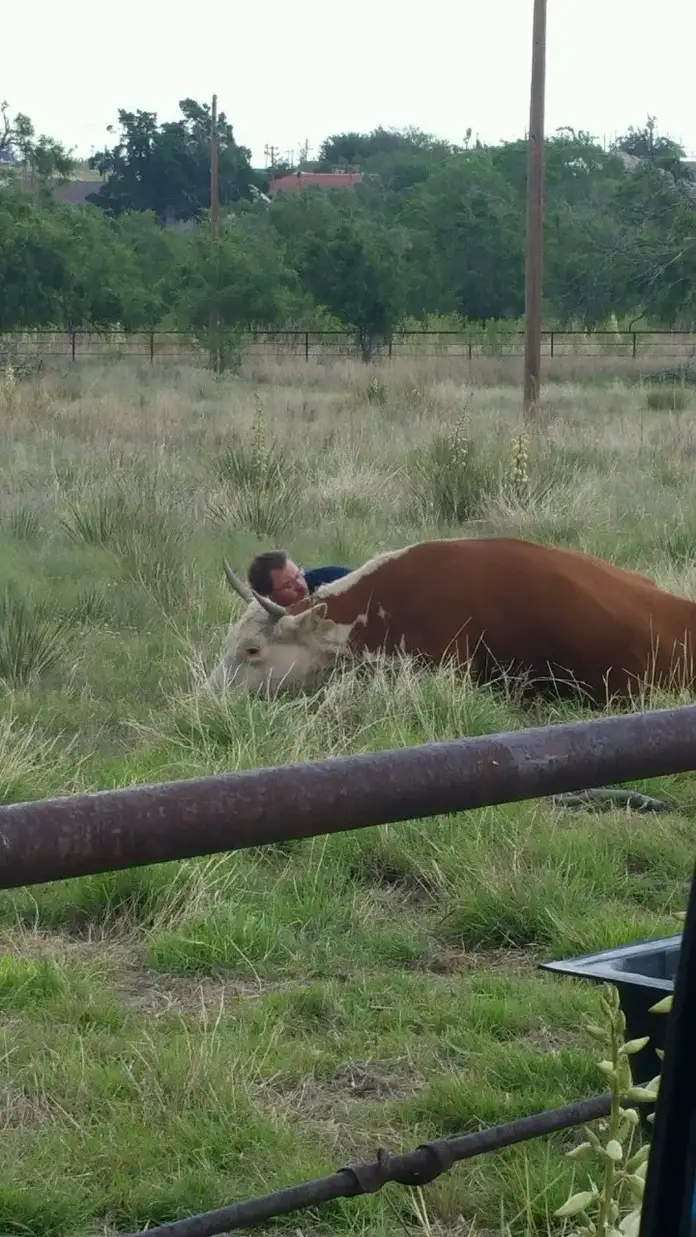 On Mother's Day, Benjamin Tipps of Borger, Texas, was on his way to see his mother-in-law when he came across the distressed animal. He and his wife were walking down the street when they noticed the cow lying on the grass. Unfortunately, the young cow's labor did not go as planned, and she was unable to deliver her calf alive after several days of labor. Exhausted and devastated, the poor mother sought solace, and it came from an unexpected source – a human being.
The 29-year-old man jumped over the fence from the side of the road and approached the cow, spending a few moments with her! Kayla Tipps, Benjamin's wife, captured the touching scene on camera, and the photos quickly went viral online!
"She was heartbroken and devastated. She was exhausted from the labor," Kayla explained to InsideEdition. "She lay down, and Ben lay down next to her, massaging her and comforting her."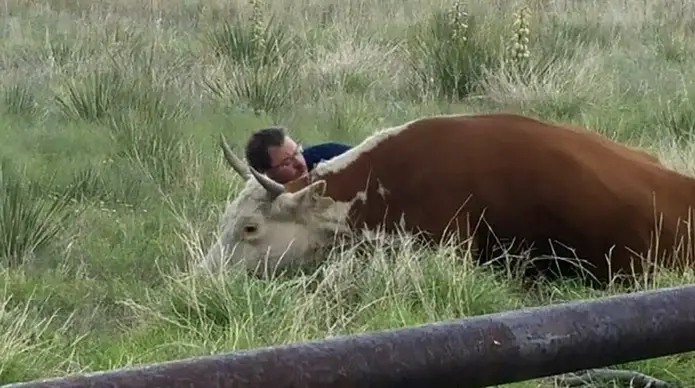 Benjamin spent several minutes comforting the cow. The cow, which belongs to Kayla's mother's neighbors, was pregnant for the second time, and her first calf – born a year ago – is healthy and in very good shape, so no one expected her to have any problems during her labor. Unfortunately, a tragedy occurred. Despite this, the mother cow is now recovering from her loss.
"A Texas man laid down next to this cow on Mother's Day to console her after losing her calf," someone captioned the photo online!